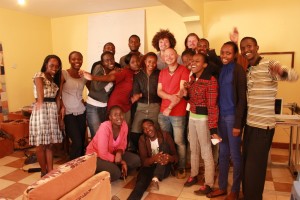 We're passionate about the value of local knowledge and know-how and strive to support its capture, curation and exchange on a peer-to-peer basis in new 'common libraries'. So, we've been working hard to identify enterprising organisations with whom to establish the first Common Libraries over recent months, and we've been lucky enough to find ourselves surrounded by positive, thoughtful and creative groups of people — all of whom share a sense of optimism about what it is we are trying to accomplish.
Today, we're excited to announce that we have joined forces with Tunapanda Institute – an organisation supporting change and working with Kibera residents to tell an inspiring story.
About the Partnership
Together, Common Libraries and Tunapanda Institute will establish a Common Library in Kibera over the weeks and months ahead. This initiative builds upon the work that Tunapanda are already undertaking in the area, as well as the passion and determination of the community it serves.
We've begun by launching a crowd-funding initiative, because residents need a wireless mesh network to access existing digital content via their mobile phones in the face of inadequate and costly broadband provision. If the campaign proves successful, funds will also be deployed to enable Tunapanda Institute students to begin producing their own digital educational materials – to be shared across the local network and, eventually, beyond.
Use of Funds
We've launched our crowd-funding campaign with Goteo – a social network for crowd-funding and distributed collaboration that encourages independent development of creative and innovative initiatives that contribute to the common good, free knowledge and open code.
In short, we are eager to raise money for
the equipment to open up at least 4 wireless mesh network access points in Kibera, which will be connected to local servers pre-loaded with learning content (text, audio, video, graphics, tutorials, etc). All residents will be able to access content for free, upload their own learning content, or connect their own server.
15 full-time trainees at Tunpanda Institute for 3-6 months. Trainees from marginalized backgrounds will rapidly develop marketable skills and learn by doing through the creation of local content for the mesh network and the world at large.
Equipment and an open-content "history and future of libraries" DVD-length mini-course – to be created by current and future Tunapanda trainees in English and Swahili to help people appreciate the global history of libraries. The mini-course will also demonstrate how anyone can extend the Kibera mesh network or create a network in their own community to promote Common Libraries both locally and further afield.
We hope you'll join us in helping the valuable knowledge and know-how in Kibera rise up!
Please contribute generously: http://www.goteo.org/project/kibera-mesh-network
Thank You